i.am.a.nerd.
and i already knew this. and all of my students knew this. but i hit a new low about two weeks ago.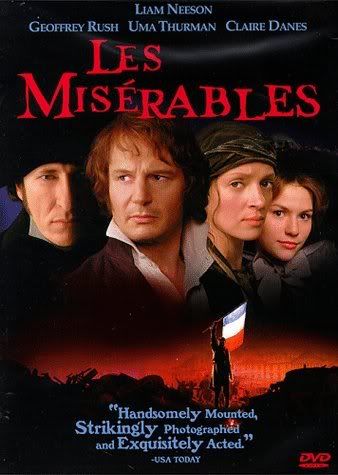 i have had a very long love affair with the story,
les miserables
. back in high school, i was claire danes, so when she starred in the movie production of
les mis
, i fell in love with it. it is, by far, my most favorite book in the world.
well, i think it's really important for kids to find books that they can actually enjoy, so once a week we have "reading day" (which has transitioned into "readddddinngggg tiiiiiiiiiiiime" inspired by jersey shore) when the kids read any book they want to. i try to read occasionally in each class as well because a lot of my students rarely see an adult reading. i've been working my way through
les miserables
, and two weeks ago, i finished it at the end of 4th period. during class changes, two former students came in to visit me before heading to their next class, and they immediately became concerned because i was crying. well, i admit it, i was crying because i finished the book. all 1200 pages of super tiny print that i had been reading off and on for the past few years. CRYING. why? hmmmm. because the story was over. and it was beautiful. and i was attached to the characters. i didn't matter that i knew what was going to happen to all of them. it didn't matter that i knew i was reaching the end of the book and it would end.
i can't really explain it, but i was attached.
there's a ridiculous assortment of "classics" that for one reason or another, i've never read, so i'm working on it.
i've moved on to
little women.
even though the 1995 movie is one of my favorites and i've watched it a million times, i've never read the book. naturally, i'm loving it. oh, and I AM jo march. no doubt.
so, what book have you never read that you would like to read? happy page turning . . .